Testing of pipes and pipeline components
CEPS provides a comprehensive portfolio of pipe and pipeline component testing methods. We carry out tests of mechanical properties and chemical composition of pipeline steel, static and cyclic pressure tests, fatigue and burst tests of pipes and pipeline components as well as specialized pressure tests with various kind of additional load on request.
This allows us for instance to establish a real remaining lifetime of pipelines and pipeline components or to determine the most effective test pressure for revalidation and upgrading of old high pressure pipelines.
For this purpose CEPS uses the in-house high-pressure testing room and laboratory at its headquarters in Jesenice near Prague.
Hydrostatic tests
Hydrostatic tests of test vessels fabricated from pipeline spools are used to determine the real over pressure on the yield point and on the ultimate strength of the pipeline steel. The pressure and volume of pumped-in water is recorded during the pressurizing and the metering software creates a diagram analogous to the tensile diagram of steel.
Using bidirectional load caused by internal pressure in the test vessels fabricated from real pipeline spools, with a possibility to contain real defects and/or other pipe features, gives much more realistic information for estimation of remaining lifetime then simple mechanical tests of pipeline steel specimens.
Fatigue tests
Fatigue tests are carried out either on test vessels during their hydrostatic pressure tests or on CT samples to detect fracture-mechanical properties of pipeline steel.
Cyclic pressure tests
Fatigue tests based on the cyclic loading of the test vessel by internal pressure are used for testing of pipe spools taken from existing pipelines and for reliable simulation of remaining time period of pipeline safe and reliable operation.
For localisation of defects and observation of their development during cycling we often use the accoustic emission (AE) and such a way we can quantify a future danger of pipeline failure.
Fatigue tests on CT samples
The CEPS test laboratory is equipped with the high-frequency resonant vibration machine. On this equipment CT samples are tested by cycling asymmetric thrust for growth of fatigue cracks. Subsequently fracture-mechanical properties (Jin, Jcr) are measured and the kinetics of fatigue crack growth is examined.
Obtained results allow then to determine the critical length of the longitudinal crack in a pipe with specific dimensions and steel grade.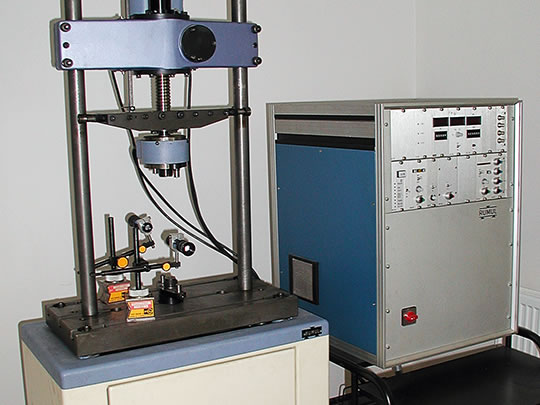 Testing equipment
High-pressure pumps with operating pressure from 200 to 600 bar with capacity from 0.08 l/min to 20 l/min
Electromagnetic shut-off valves and pressure sensors connected to an electronic control unit for cyclic and long term testing
Precise electronic pressure sensors and flow meters capable to measure extremely low flow. The measured values are evaluated by a proprietary software
Test pit and separated control room for safe observation and control of the tests
Maximum tested pipe size 56 in (DN 1400)
The testing room is equipped for welding and manipulation with large test vessels.