Exchange of 32 pipes on DN 500 crude oil pipeline within 88 hours – was that a world record?
In September 2007 the most extraordinary event was carried out it was unique both in its scope and in such a very short period during which it had to be implemented.
In the Czech part of crude oil pipeline Druzhba DN 500 in section in South Moravia the exchange of 32 pipes was accomplished that according to findings of an internal inspection by its parameters (wall thickness) did not meet the requirements for future safe operation of the pipeline.

These nonconforming pipes were irregularly deployed in two locations at approximately 8 km pipeline route near the pumping station; see Figure 1.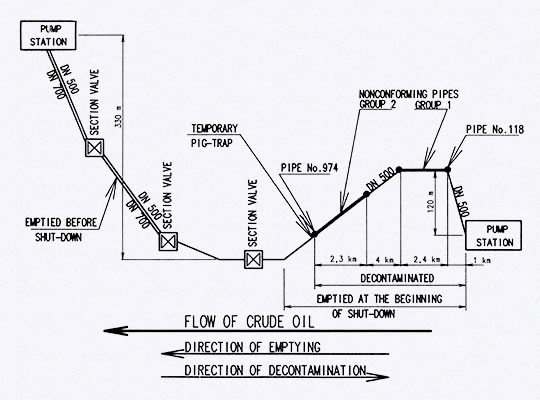 Exchange of pipes had to be made during regular technological pipeline shutdown lasting only 96 hours. Any extension of the length of shutdown would bring to the pipeline operator very high costs. This short period of implementation required an extremely large engagement of capacities for all types of work – displacement of crude oil from the pipeline, ensuring of safe environment for welding, assembly works during cuttings of unsatisfactory pipes and insertion of new ones into pipeline and NDT of made welds. It was therefore necessary to choose suitable services for the entire action, choose reliable suppliers of assembly works, technically and organizationally prepare in detail the whole event and then coordinate the activity of a large number of subcontractors on a relatively small area.
Before starting the exchange of pipes it was first of all necessary to displace oil from all pipes that being planned to be exchanged and then inside the pipeline to ensure a safe atmosphere for the implementation of open flame welding-assembly works.
Implementation of these works individually on all sites at the same time is not realistic for time reasons, neither of availability of facilities for the temporary closure of pipelines, because it would be necessary to isolate 30 sites, which would mean using of 14 sets for temporary closure of the pipeline. Due to that an entirely new technology was chosen – crude oil was displaced from all destination of pipeline section with unsatisfactory pipes (section in length of 9.7 km) and after that the empty pipeline was decontaminated using a special technology, by that all the hydrocarbons were removed from the walls of the pipeline and so the safe environment for welding was ensured. After that cuttings of all failed pipes were realised and welding of new ones back were realised without any technological restrictions.
The oil pushed out of the pipe is normally transported to the nearest pumping station by road tankers or it is pumped from the closed section to the next section behind the section valve. However time for emptying was very limited. Removal of nearly 2,000 m³ of oil from the closed section by road tank trucks in disposable time was quite impossible. Even re-pumping of crude oil into another part of the pipeline at the same time was not easy – the technical equipments needed for pressuring (compressors with the pressure about 35 bar and necessary flow rate or powerful mobile pumps) are not in the Czech Republic and also probably elsewhere in Europe easily available. Therefore the more useful solution was found. In advance it was possible to empty the proper part of the parallel pipeline DN 700. Into this emptied section of the pipeline it was afterwards possible right at the beginning of the pipeline DN 500 shutdown quickly to push over the crude oil from the repaired section.